April 2023 Young Children Newsletter
Looking for a new service project idea?
Sponsor a BUDDY BENCH!
A Buddy Bench is usually placed at a school playground.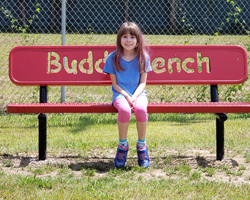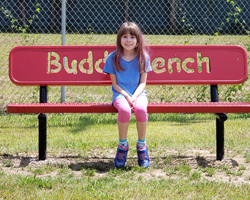 Why have a Buddy Bench?
Children today are dealing with isolation, loneliness and unhappy experiences on social media. Bullying persists on social media and many children suffer from depression. Providing a Buddy Bench encourages children to interact, to be social, to play and to be compassionate and kind to each other.
How does the Buddy Bench work?
If a child is sitting on the bench …the child is looking for a friend. When someone asks the child to play, he join them, and always remembers to glance over at the school's Buddy Bench to invite new friends to join in on the fun
If a child is not sitting on the bench …the child asks a classmate on the buddy bench to play, and make a new friend today! The child Keeps growing a circle of friends until everyone has someone to play with.
4 REASONS TO SIT ON A BUDDY BENCH
If a child is new to the school.
If a child wants to make a new friend.
If his/her friends aren't at school today.
If a child wants to play something different
from what his/her friends are playing.
MAKE BUDDIES NOT BULLIES
Every seven minutes a child is bullied according to an estimate by the U.S. Department of Justice. Promote inclusion. Give students a safe space to eliminate loneliness and foster friendships.
If you are interested in a Buddy Bench for your playground, check out the engraved recycled plastic benches or the laser cut plastic-coated steel bench. These benches are designed to last 50 years.
Benches are engraved with your specific message,I.e. Kiwanis Club of city/town or can be In Memory of..
Check out the websites below for more information.
https://www.thebenchfactory.com/buddy-bench-benefits
https://pollyproducts.com/product-category/buddy-benches/
If you want to place a Buddy Bench at a school, you will need to contact the Department of Public Works and/or the School Department. Buddy Benches are shipped by UPS and need to be assembled. Directions for assembly etc. can be found online.
Ava Adams, District Chair
Young Children Committee
Scarborough Maine Kiwanis Club
New England and Bermuda District of Kiwanis
email: [email protected]